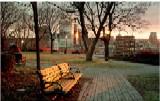 Ocean State PMI – Mission Statement
The Ocean State Project Management Institute (OSPMI) chapter has been chartered by the Project Management Institute (PMI) since the summer of 1999.
It was established as a professional development organization for Rhode Island and South Eastern Massachusetts professionals from all areas of industry practicing Project Management.
The organization is as a non-profit; tax Exempt Corporation chartered by the Project Management Institute (PMI) is dedicated to advancing the practice, science, and profession of project management.
Mission:
It is the mission of OSPMI to embrace and uphold the core values of the PMI while reacting to changes in the project management profession and responding to changing member needs.  OSPMI will accomplish this by both growing our membership and by continually providing benefit to our local project management community.  
 
Vision and Strategic Intent:
Consistent with OSPMI's charter and our statement of mission it is our intent to:
a) Foster professionalism in the management of projects.
b) Contribute to the quality and scope of project management.
c) Stimulate appreciation for the profession of project management of the benefit to  the general public, local corporate, educational or governmental communities. 
d) Provide a recognized forum for OSPMI members and the larger Project Management community for the free exchange of ideas, applications, and solutions to further advance the profession. 
e) Promote the fundamentals of project management and advance the body of knowledge for managing projects successfully.
Goal and Objectives:
OSPMI's goal is to uphold the core PMI values while growing our membership now and into the future, meeting or exceeding our PMI community expectations and providing value while reacting quickly to changes in the industry by following a strategic plan that provides supporting objectives and actionable steps that ensure that OSPMI's mission and strategy is achieved.
Objectives:
• Provide a source for all of our members to find and research core PMI information by maintaining an OSPMI website that is managed and updated to ensure accurate and complete information is presented.
• Provide a professional forum for all of our members to collectively share their ideas and experiences as they relate to the field of Project Management by providing an OSPMI informational website that is maintained and updated to ensure accurate and complete information is presented.
• Insure that membership meetings are held on a regular basis, and everyone is welcome and establish a schedule of upcoming meetings and events that focus on building project management excellence.
• Regularly hold Board of Director meetings where administrative matters of the organization are conducted and strategic direction is supported.
• Included are our Strategic Initiatives that are performed to ensure our mission and strategic direction.
• On an annual cycle, monitor and manage our strategic plan by performing an assessment (of needs), implementation (of initiatives), and evaluation and monitoring (of their performance and effectiveness)